In today's industrial world, we're always searching for the product that's going to handle the toughest challenges and be robust enough to withstand the greatest pressures in the harshest environments. For many applications, particularly those in the agricultural, construction, mining, and vehicle industries, tapered roller bearings are the best solution. As with any bearings, however, simple errors during installation or not taking proper care can cause extensive and costly damage.
Tapered roller bearings are rolling element bearings that can support axial as well as radial forces. They feature tapered inner and outer ring raceways as well as tapered rollers, allowing them to accommodate combined loads or simultaneously acting radial and axial loads. Damaged roller bearings are usually a result of either poor installation or adjustment, inadequate or contaminated lubricant, or environmental exposure. Here, we outline what can go wrong so that you can avoid these pitfalls and ensure your roller bearings meet your expectations.
Installation
There are several important points to consider when installing or adjusting your tapered roller bearings. If the bearing is accidentally dropped, make sure it is inspected for damage or deformation because a bearing with a bent cage would need to be scrapped. It's also vital to use the correct installation tools. Using harder tools such as hardened drifts, centre punches or brass bars can cause deformation and spalling. Additionally, be careful of compression during installation as it can cause skewing and deformation which will also result in a damaged cage.
Another exercise to avoid is excessive endplay and misalignment, resulting in deep spalling along one side of the raceway or cone. During adjustment, excessive preload temperatures can also cause spalling, resulting in rapid damage to the raceway and rollers. Cleanliness during installation is of utmost importance as any debris or contamination can leave bruises or small indentations along the raceway, greatly reducing the bearing's lifespan.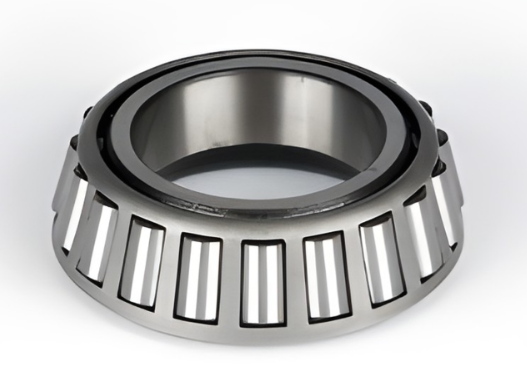 Lubrication
Almost every potential bearing fault can be avoided with proper lubrication. Failing to use enough lubricant can cause heat or welding damage near the large end of the cone or on the larger ends of the rollers, as they come into sliding contact. Another result of inadequate lubrication is the potential for peeling or micro-spalling, which rapidly wears away the raceway material.
Moisture
Water damage, as a result of environmental exposure or even from steel 'sweat', is a common issue that must be carefully monitored. If moisture enters the bearing during installation or adjustment, or simply from fluctuating temperatures, it can cause rust or etching around the raceway. Etching shows up as dark lines that run around the raceway and similar to peeling or micro-spalling, it can cause chunks of material to be torn off during operation, resulting in extensive damage to not only the bearing but to the machinery as well.
Damaged bearings and the various causes are almost always down to human error. Taking extra precaution and keeping these tips in mind will help you to avoid any potential catastrophes. And if you're uncertain about installing your bearings, speak to a professional tapered roller bearing supplier. The team at Huayang Jinggong will always be more than willing to receive your mail and offer advice.